---
We have brought together a collection of Images of MAA in different Sakthi temples all over INDIA from Kanyakumari to Kashmir and Kamakhya. We have also given an exposition of the Saktha religion.

We hope all the Devotees of SAKTHI MAA will be able to appreciate and download some Images.
---
Click on an Image to see it Full size--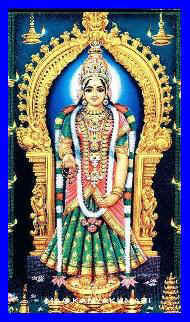 Click on the Image to see full size
MAA KANYAKUMARI
AT Kanyakumari , Tamil Nadu , India
Kanyakumari is situated at the extreme southern end of India . The old name for the place was Cape Comorin. It is the meeting place of the Indian Ocean , the Bay of Bengal and the Arabian Sea. Cape Comorin is mentioned in the works of the ancient Greek scholar Ptolemy.
MAA KANYAKUMARI is affectionately called the LITTLE MOTHER.
---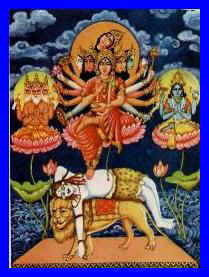 Click on the Image to see full size
SRI SRI MAA KAMAKHYA
At Kamakhya , Gowhati, Assam, India
The photograph is an artist's impression based on a Dhyana sloka. There is no Image at this temple. This is again a cave temple on top of the Neelachal hill near Gowhati. This temple is encircled by temples of the Dasa Maha Vidyas.

This is one of the most holy temples as Kamakhya is the Yoni Peeta.
TIME FOR A PRAYER [38 KB. MP3 File]
---
---
Do you have any questions about worship of MAA or doubts about your Upasana? We may be able to help.We have started a new Yahoo group called Saktha Family for the benefit of the Bhakthas and Upasakas of MAA.
The group has more than 300 members. Some of them are advanced Upasakas.Please join the group now & post your questions on the message board.Check the existing messages.You might find the answer to your queries.